Are you ready to embark on an enchanting journey into the world of feathered wonders? Look no further than Portland and its surrounding areas – a haven for bird enthusiasts!
Watching and photographing birds is one of the world's most popular outdoor activities, with millions of people participating each year in Australia alone. Glenelg Shire are lucky to have some truly amazing birds throughout our country, and luckier still that Portland and its' surrounds are such a good place to find them all year round!
With around 370 species of birds documented in the region, Portland and its surrounding area is a birding biodiversity hotspot! The dynamic nature of the seasons here encourages migratory birds to come and go throughout the year, with something new and exciting around each month. At any given time, an avid birdwatcher may be able to spot between 150 and 250 bird species around the shire… (Above: Laughing Kookaburra; Below: Pacific Gull)

But when do I see them?
The early morning hours tend to be the very best time to see and photograph birds. The early hours, aptly named "the golden hour," are the prime time for birdwatching and the soft golden light from the sun provides an excellent illumination source for photography. It also just so happens that the birds tend to be waking up around this time and often begin to sing – a time called "the morning chorus." After several hours without feeding, they also generally begin to forage around this time; moving and singing birds are much easier to see than stationary, quiet birds.
The Art of Birdwatching: Eyes, Ears, and a Dash of Curiosity
You might be wondering, what tools do you need to partake in this captivating pursuit? To see birds, you really don't need anything except for your eyes and/or ears – it is more about being in the right place at the right time and taking the time to truly look. Of course, optics can help you identify birds – binoculars are a great starting point. A pair of 6x 8x or 10x binoculars with a field of view (the second number) above 28 work wonderfully. While a camera can elevate your birdwatching adventure, it's by no means a necessity.
Lastly, you'll want a guide of some sort. Lucky for you, a plethora of resources are at your fingertips "The Australian Bird Guide" and "Field Guide to Australian Birds" are two popular paperback guides; "Merlin" by Cornell University is a great free smartphone app for birders because you can isolate the likely to see birds by region and date – making the initial task of identification a breeze.  (Above: White-Fronted Chat)
Where should I go?
With countless hidden corners waiting to be explored, Portland and its vicinity offer a multitude of breathtaking birdwatching hotspots based  on the particular species you wish to see whether you're a seasoned birder or you are just starting out on your birdwatching journey, there are a few hotspots that are likely to get you quite a few birds on your birding life list (the list of all of the species you have seen).
Plan Your Expedition with Expert Guidance
Remember, the journey is yours to shape. If you have specific species in mind, don't hesitate to seek advice from the knowledgeable staff at the Portland Visitor Information Centre. They'll be thrilled to guide you toward your avian aspirations.
Fawthrop Lagoon
Fawthrop Lagoon is home to around 150 species of bird, including some that are very challenging to find elsewhere, namely several secretive Crakes and Rails. The walking path is best at low tide, particularly if low tide comes in the morning. Within one hour, a keen observer may see between 30 and 50 bird species.  (Above: Great Egret; Below: Australian Crake)
Some of the birds of Fawthrop Lagoon:
Royal Spoonbill – Common
Australian Crake – Common
Buff-Banded Rail – Common
Australian Pelican – Uncommon
Great Egret – Uncommon
Black Swan – Common
Chestnut Teal – Common
Red Wattlebird – Common
Silvereye – Common
Point Danger and Blacknose Point
Just beyond Portland CBD, Point Danger, Blacknose Point, and Crumpets Beach promise excellent bird spotting, particularly pelagic or seabirds. You can stop at any of the lookouts or walk along portions of the Great Southwest Walk to find many of the more than 120 species documented here. (Above: Australian Gannet; Below: Rufous Bristlebird)

Some of the birds of Point Danger and Blacknose Point:
Singing Honeyeater – Common
Shy Albatross – Common
Black-Browed Albatross – Common
Australian Gannet – Common
Cape Gannet – Rare
New Holland Honeyeater – Common
Rufous Bristlebird – Uncommon
Brown Skua – Rare
Superb Fairywren – Common

Narrawong Beach
Venture off the beaten path and discover Narrawong Beach, turning off just before the bridge entering Narrawong to visit the mouth of the Surrey River. This unique area is great for the whole family, with a beautiful beach, playground, and ample parking.  Set your sights on Hooded Plovers, Little Egrets, and the majestic Australian Hobby, among others, as you soak in the beauty of this unique locale. (Above: Pied Oystercatcher; Below: Australian Hobby)


Some of the birds found at Narrawong Beach:
Hooded Plover – Uncommon / Common
Little Egret – Common
Pacific Black Duck – Common
Hoary Headed Grebe – Common
Pacific Gull – Common
Grey Goshawk – Uncommon
Dusky Moorhen – Common
Australian Hobby – Uncommon
Pied Oystercatcher – Uncommon
Cobboboonee National Park
There are many options within Cobboboonee, Tim's Loop, Jackass-Fern Gully, and segments of the Great Southwest Walk beckon you to explore. From the enchanting call of the Tawny Frogmouth to the dazzling beauty of the Golden Whistler, this park is a haven for bird enthusiasts.. (Above: Golden Whistler; Below: Tawny Frogmouth)

Some of the birds found in Cobboboonee National Park:
Tawny Frogmouth – Common
Southern Boobook Owl – Uncommon
Golden Whistler – Common
Laughing Kookaburra – Common
Azure Kingfisher – Uncommon
Eastern Yellow Robin – Common
Striated Thornbill – Common
Varied Sittella – Common
Yellow-Tailed Black Cockatoo – Uncommon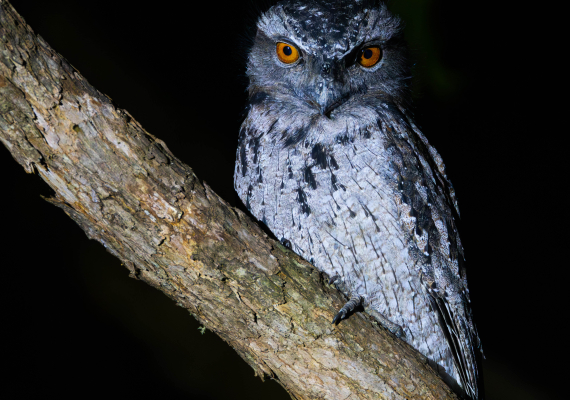 Lower Glenelg National Park
Venture a bit further out of Portland into Lower Glenelg National Park. Like Cobboboonee National Park, there are many options for prospective birders. The Moleside to Wild Dog Bend loop, with its starting point at Moleside Campground, begins with striking hues of the Gang-Gang Cockatoo to the elegant grace of the Emu, this park promises rare encounters and unforgettable memories. (Above: Male Southern Emu-Wren; Below: Female Gang-Gang Cockatoo)


Some of the birds found in Lower Glenelg National Park:
Gang-Gang Cockatoo – Common
Emu – Common
Eastern Spinebill – Common
Flame Robin – Rare
Powerful Owl – Rare
Olive Whistler – Common
White-Throated Treecreeper – Common
Southern Emu-wren – Uncommon
Bassian Thrush – Common
Other Fantastic Spots Include:
As you explore the vast expanse of Portland and Glenelg Shire, an array of captivating destinations beckon, including:
Discovery Bay Estuary Beach (Glenelg River Mouth)Cape Nelson Lighthouse and Reserve
Narrawong Flora Reserve and Sawpit Campground
Budj Bim National Park
Crawford River Regional Park
Wilken Flora and Fauna Reserve
Ess Lagoon
All photos above were taken within Glenelg Shire in Southwestern Victoria by the Author, Joshua Pierce.